Complete Guide to Tikka Masala: Origin, Recipe, & Variations
---
What is tikka masala?
Tikka masala is a world-renowned Indian dish with numerous regional and dietary variations. Chicken tikka masala, which is most commonly referred to by the term 'tikka masala', is a spiced curry and tender roasted marinated chicken chunks that is served hot in Indian restaurants all around the world and can be enjoyed by anyone, anywhere. The curry is usually creamy and orange-colored, with main ingredients being chicken, yogurt, cream, tomatoes, onion, garlic, ginger, and chili peppers.
The popular entree is usually served with steamed basmati rice or naan, an oven-baked or tawa-fried flatbread. It's also commonly eaten with sides such as minted cucumber salad, mango chutney, and crunchy vegetable samosas.
Origins
The origins of tikka masala are hotly contested; so, what exactly are the stories behind the true creation of chicken tikka masala? 
As some claim chicken tikka masala to be the UK's unofficial national dish, this sumptuous culinary wonder has long been considered a testament to Britain's status as a multicultural epicenter. For this reason, many think it is most convincing that the dish originated in Glasgow, Scotland by Ali Ahmed Aslam of an authentic Scottish curry house with a cult following
Shish Mahal
. A customer in the 1970s complained about his chicken being dry. So, Ali, who thanks to divine intervention had a stomach ulcer and was on a liquid-based diet, insisted that the dry curry be embellished with a touch of his tomato soup and spices. The customer enjoyed the creation so much that he kept returning time after time along with his friends. Since then, a star dish was born at the Shish Mahal. In 2009, Labor MP Mohammad Sarwar put forth an Early Day Motion in the House of Commons requesting that Parliament legally recognize Glasgow as the home of chicken tikka masala. In other words, he wanted Glasgow bestowed with protected geographical status surrounding its dish by the European Union. However, these efforts did not make it.
The plot thickens as there is another well-known story to the beginnings of tikka masala. Food historians Colleen and Peter Grove remain adamant that the dish 'was most certainly invented in Britain, probably by a Bangladeshi chef'. After delving deep into the depths of the numerous claims of origins, the two foodies point the finger towards Balbir Singh's coveted Shahi Chicken Masala recipe, which happened to be published in 1961 in Indian Cookery. 
Due to its difficult-to-trace history and its widespread adoption, there is still considerable debate around this topic, and the dish's exact beginnings may never fully reveal itself. But it is accepted that the history of the dish stems from the UK and Indian subcontinent. In 2001, British
Foreign Secretary
Robin Cook
mentioned the dish in a speech acclaiming the benefits of Britain's multiculturalism, declaring: chicken tikka masala is now a true British national dish, not only because it is the most popular, but because it is a perfect illustration of the way Britain absorbs and adapts external influences. Chicken tikka is an Indian dish. The masala sauce was added to satisfy the desire of British people to have their meat served in gravy.
Basic Tikka Masala Recipe
Here's how to make tikka masala with chicken that is perfectly tender in the creamiest, most flavor-packed sauce ever! This recipe yields 4 servings and takes just 30 minutes to make:
Ingredients
1 cup basmati rice

1 1/2 tablespoons canola oil

1 1/2 pounds boneless, skinless chicken thighs, cut into 1-inch chunks

Kosher salt, to taste

Ground black pepper, to taste

1/2 medium sweet onion, diced

3 tablespoons tomato paste

3 cloves garlic, minced

1 tablespoon freshly grated ginger

1 1/2 teaspoons tikka masala sauce

1 1/2 teaspoons chili powder

1 1/2 teaspoons ground turmeric

1 (15-ounce) can tomato sauce

1 cup chicken stock

1/2 cup heavy cream

2 tablespoons chopped fresh cilantro leaves
Directions
Cook rice using your preferred method or according to package instructions and set aside.

Heat canola oil in a large stockpot or Dutch oven over medium heat. Season chicken with salt and pepper, to taste. Add chicken and onion to the stockpot and cook until golden, about 4-5 minutes.

Stir in tomato paste, garlic, ginger, tikka masala sauce, chili powder and turmeric until fragrant, about 1 minute.

Stir in tomato sauce and chicken stock; season with salt and pepper, to taste. Bring to a boil; reduce heat and simmer, stirring occasionally, until reduced and slightly thickened, about 10 minutes.

Stir in heavy cream until heated through, about 1 minute.

Serve immediately with rice, garnished with cilantro, if desired.
Variations of tikka masala
As previously mentioned, there are widespread adoptions of tikka masala. Aside from the original tikka masala that's made with chicken, there are many alternatives to the protein used in modern day tikka masala dishes to accommodate a variety of taste buds and diets. It can even be made with other meat options such as pork. 
Many consumers enjoy making their own vegan or vegetarian versions of tikka masala at home, and now more and more restaurants serve these variations. As for the plant based ingredients used to make the dish, some go for chickpeas, peas, cauliflower, and/or carrots.
What are the differences between tikka masala, butter masala, and curry?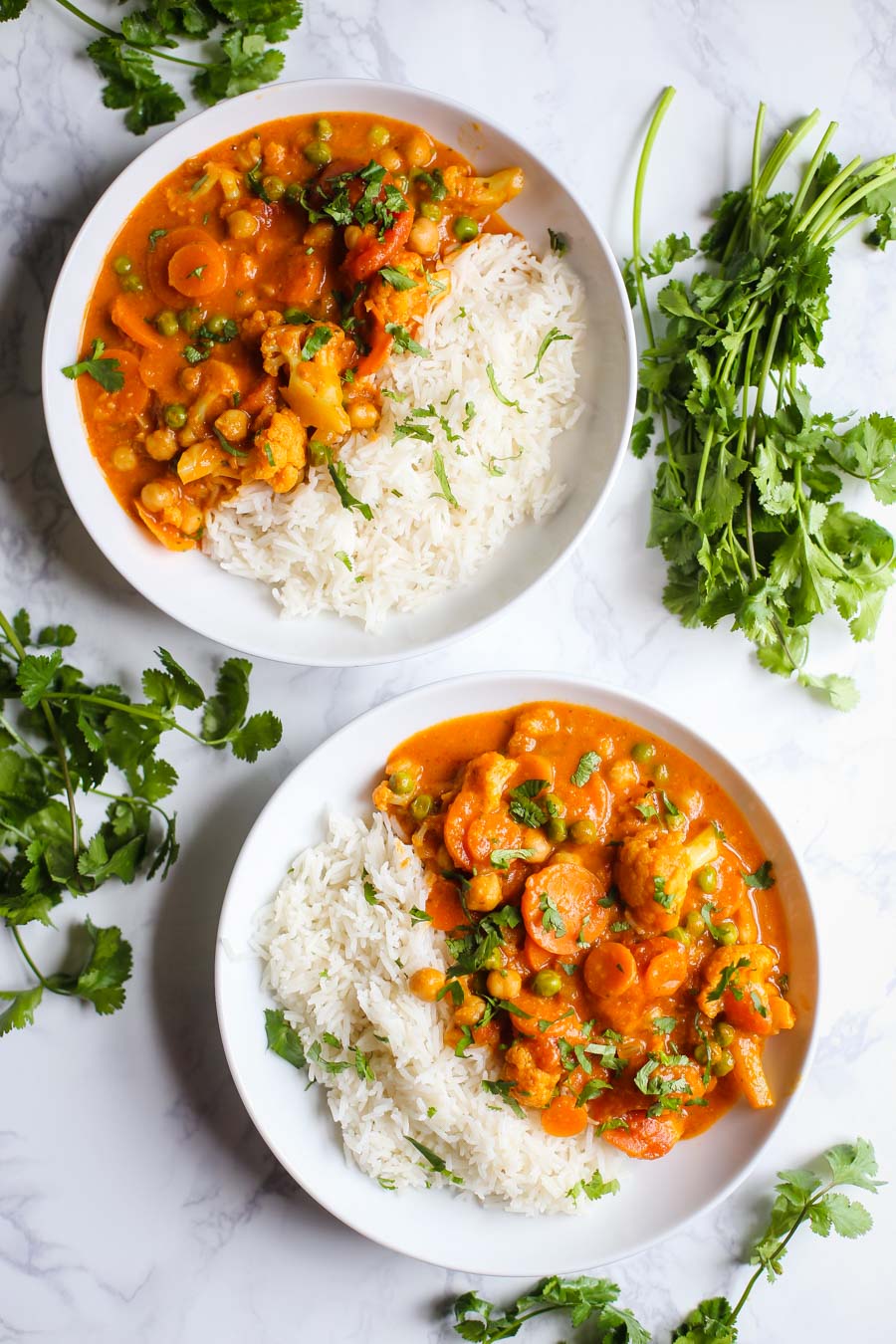 There are also some similar, but different, dishes to chicken tikka masala. With butter chicken bearing a strikingly similar orange tinge, what really sets tikka masala and butter chicken apart? These two curries not only make for look-alikes, but are also the top contenders in the 'most popular Indian curry' category. Moreover, the countless regional variations make it harder to tell the difference.
Unlike tikka masala, the origins of butter chicken are far from disputed. It is universally acknowledged that butter chicken was created by Kundan Lal, the founder of the famous restaurant, Moti Mahal in New Delhi, India. Kundan realized that a lot of his tandoori/roasted chicken was getting wasted because it eventually became too dry, so his solution was the invention of this curry-based recipe, that's now recognized as 'butter chicken'.
To simply put the difference, butter chicken is rich in butter, as the name implies. Butter is generously added to make the tomato sauce creamier and, its addition, in turn, lends a certain sweetness to the palate. On the other hand, chicken tikka masala, is the spicier variant, carrying more nuanced flavors.
Check out our selection of South Asian products at Umamicart
Here's some of the South Asian sauces, spices, and snacks we recommend. Try the Umamicart exclusive tikka masala sauce from Brooklyn Delhi today!
Sauces
South Asian Ingredients/Spices
South Asian Snacks/Ready to Eat