Brooklyn Delhi Tomato Achaar (Spicy Indian Condiment)
About this product
Brooklyn Delhi's Tomato Achaar adds an addictive umami kick to the foods you love. Think of it as India's equivalent to Sriracha, harissa or gochujang. Made with tomatoes, garlic, ground Indian chiles and spices, tamarind, sesame oil and a touch of unrefined cane sugar.
It's a delightful balance of spicy, savory and tangy flavors that makes everything taste delicious. Traditionally it's eaten with rice, curry, dal and yogurt, but you can top it on most anything - eggs, sandwiches, grilled meats, noodles or even cook with it by adding it to lentils, soups, salad dressings. Mix it into mayo for dipping fries in or into guacamole to go with chips.
More details
About the brand
Ingredients
Tomatoes, tomato paste, non-GMO expeller pressed canola oil, sesame oil, salt, garlic, spices (including red chili pepper and turmeric), tamarind, jaggery (evaporated sugarcane juice).
Brooklyn Delhi makes delicious condiments and sauces inspired by Indian culinary traditions and plant-based ingredients. Brooklyn Delhi recipes were developed by chef and cookbook author Chitra Agrawal. Since 2009 in Brooklyn, Chitra has specialized in serving, teaching and writing about Indian home cooking. She has been featured in The New York Times, Food & Wine, Bon Appetit, Saveur, among others for her cooking and is the author of Vibrant India.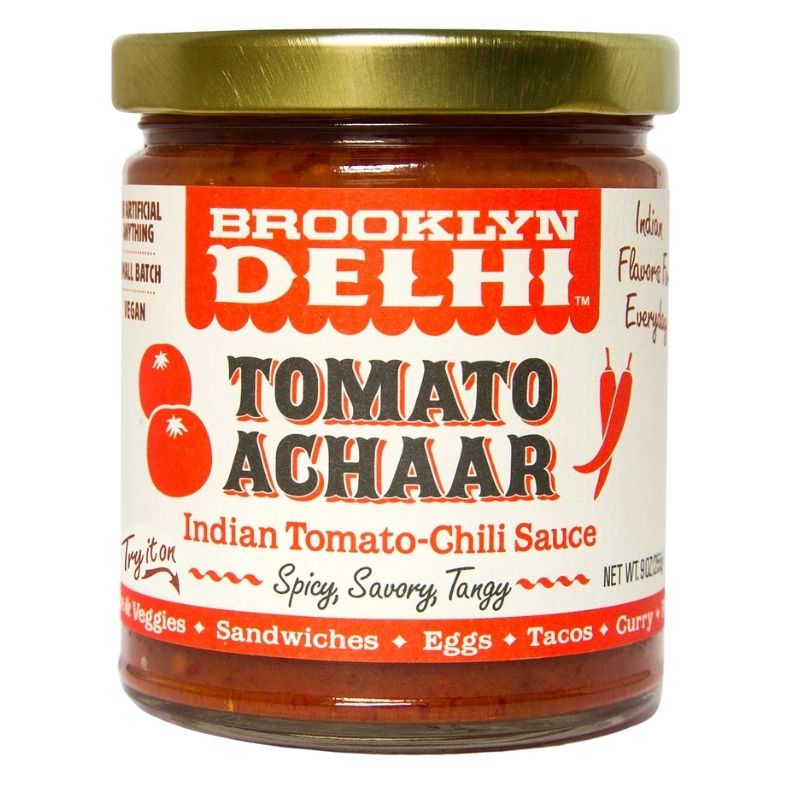 Brooklyn Delhi Tomato Achaar (Spicy Indian Condiment)