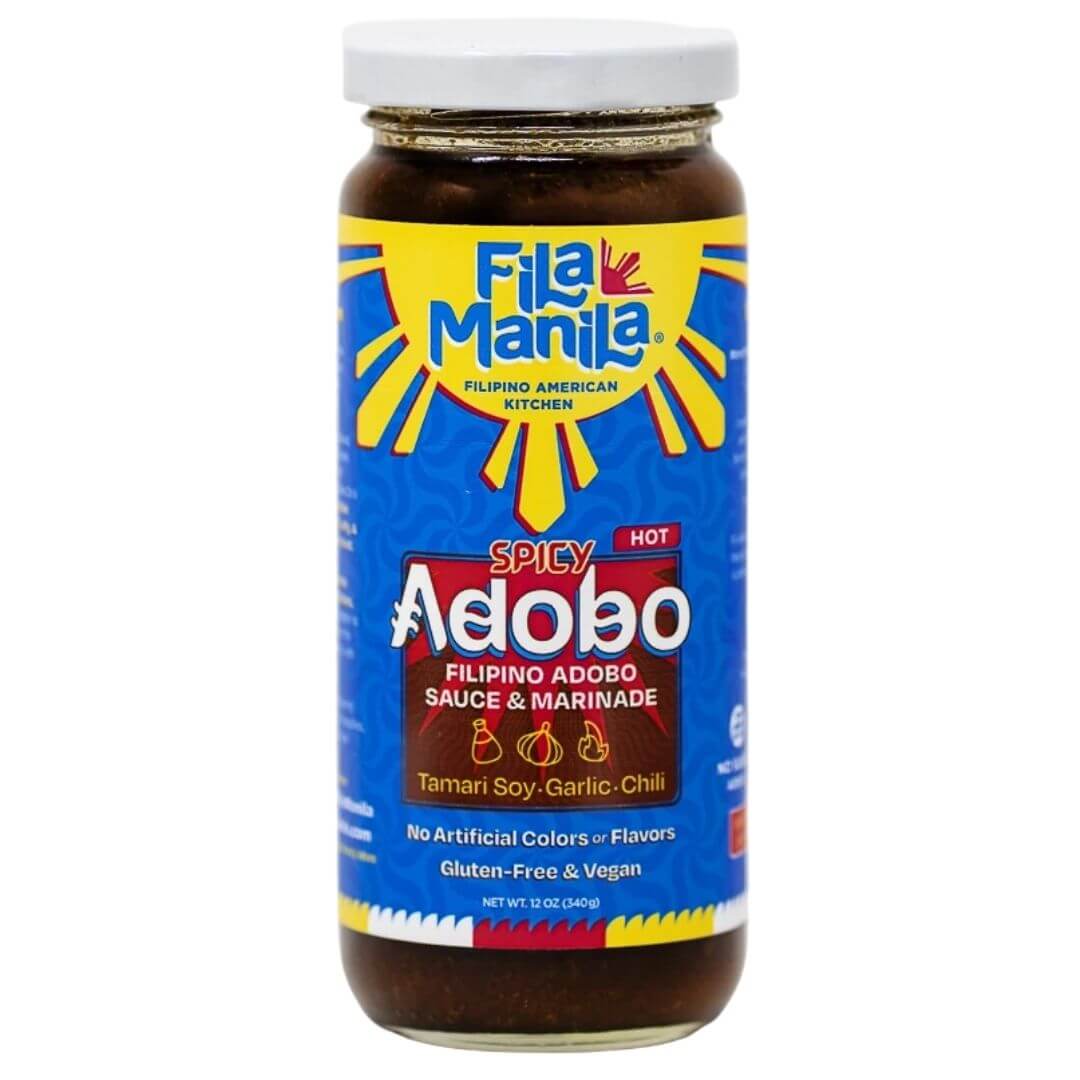 Fila Manila Spicy Adobo Sauce and Marinade
About this product
Spicy. Fila Manila's Spicy Adobo Sauce and Marinade is an all natural Filipino soy and garlic simmer sauce + marinade made from tamari soy, garlic, and spices. Simply add to your favorite meat, seafood, or vegetables, cook through until the protein is tender and sauce thickens to preference. 
Also try as a marinade, dipping sauce, seasoning for rice, noodles, & stir fry, and so much more! 
Other Varieties
More details
About the brand
Ingredients
Water, wheat-free tamari (water, soybeans, salt, alcohol [to preserve freshness]), date nectar, coconut vinegar, garlic in water (garlic, water, citric acid), white vinegar, garlic puree, avocado oil, onion powder, yeast extract, bay leaves, black pepper, coriander, & xanthan gum (a natural thickener).
Fila Manila is a line of Filipino simmer sauces inspired by iconic Philippine dishes, many of which are founder Jake's favorite comfort foods growing up as a 1st generation Filipino-American. Simply simmer the sauces with your favorite protein & veggies for easy and delicious Filipino food at home! All Fila Manila recipes have zero sugar added and are naturally vegan, gluten-free, and dairy-free.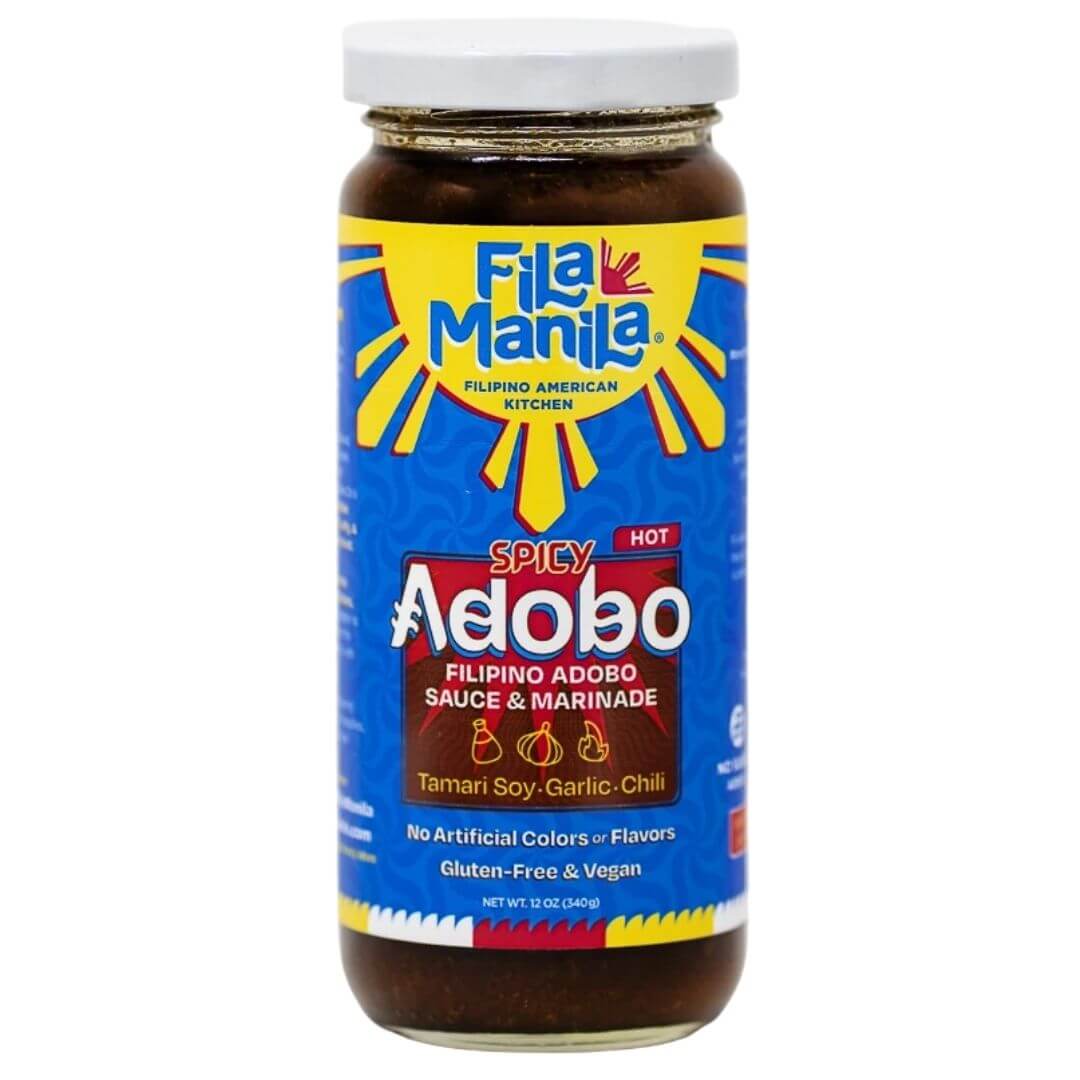 Total 5 star reviews: 2
Total 4 star reviews: 0
Total 3 star reviews: 0
Total 2 star reviews: 0
Total 1 star reviews: 0
Followed previous review

Sautéed onion and boneless chicken thigh pieces, then added the jar of sauce with a little extra water, bay leaves and extra soy sauce (because I used 2.5 lbs of chicken). Came out delicious and not spicy at all. Salt & pepper to taste.

Tastes like home cooking.

I tried this for the first time tonight for dinner and I will be repurchasing! My favorite food that my mom makes is chicken adobo and this tastes so so similar to the home cooking that my mom makes. I first added some onion to a oiled pan, sautéed until golden (that's how my mom makes it). Then added some cubed chicken to get the outside cooked. They I poured in the entire jar of Fila Manila sauce in, filled the jar like a quarter of the way up with water, shook it up and poured that in too. Added 4 bay leaves on top (bay leaves are a must imo) and let it simmer until the sauce reduced to my liking. It was so easy and sooooo yummy! I'm only cooking for one but I feel like this would be such an easy dinner if you need a weekday meal to feed your family!
Reviews Loaded
Reviews Added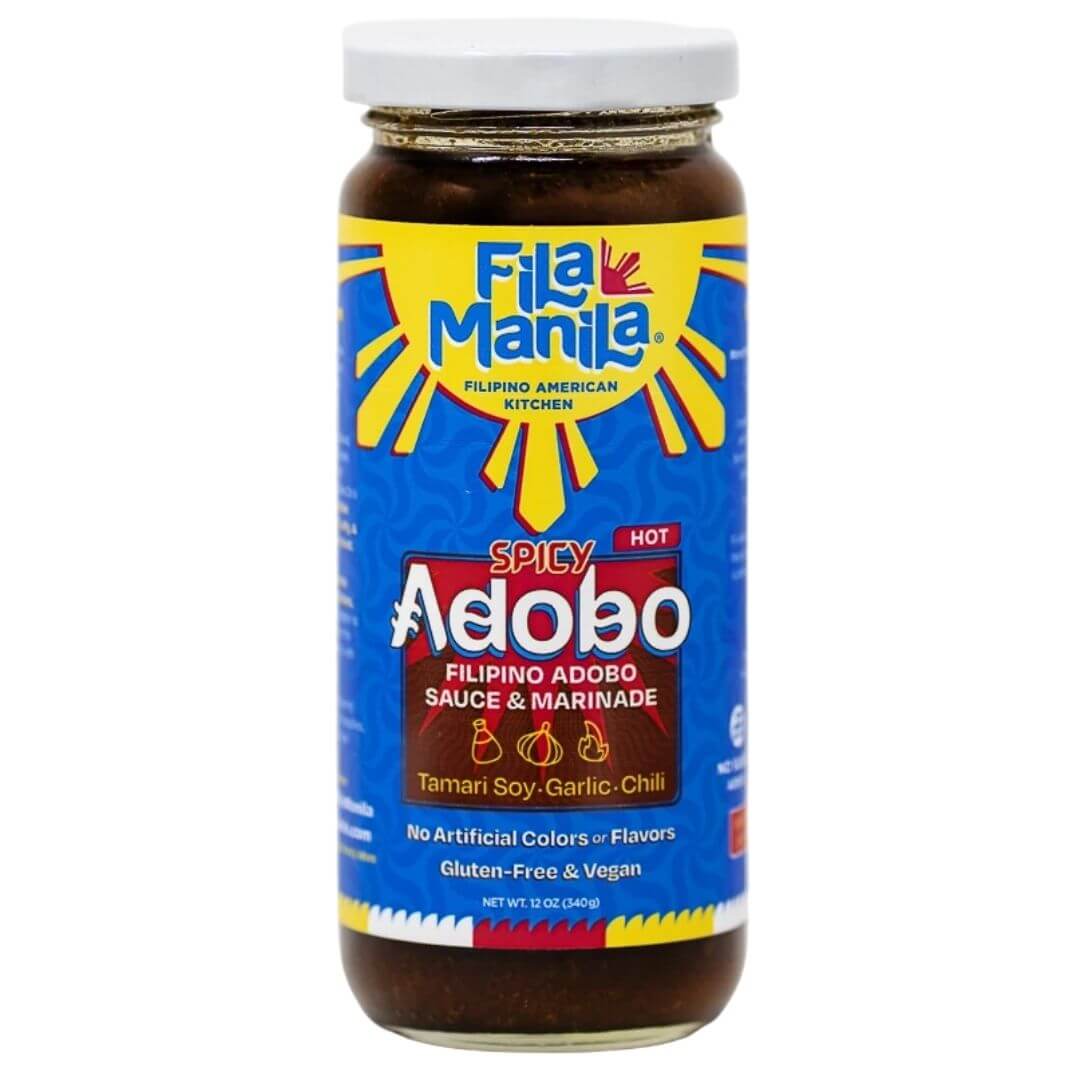 Fila Manila Spicy Adobo Sauce and Marinade