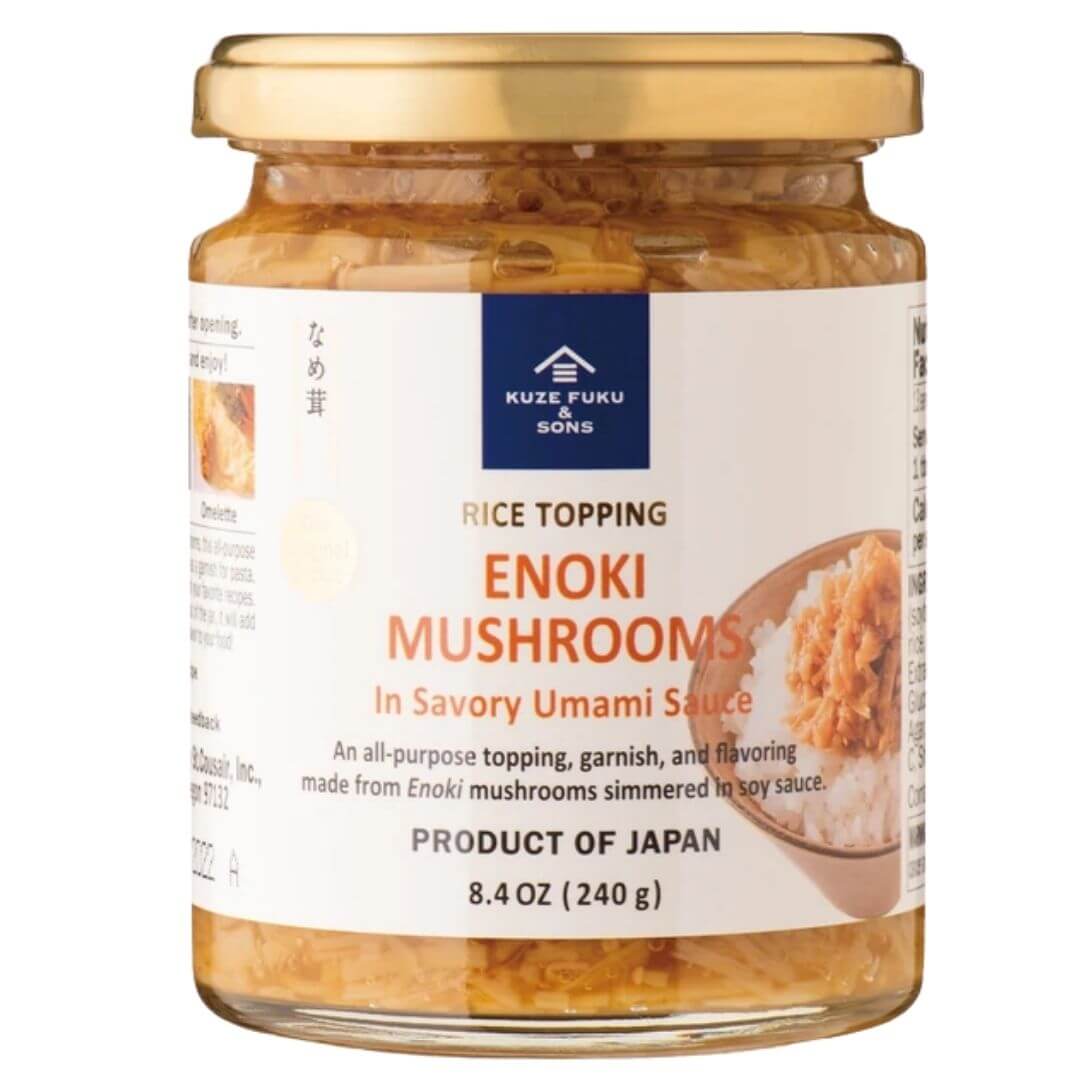 Kuze Fuku Enoki Mushrooms in Savory Umami Sauce
Out of Stock
About this product
Enoki mushrooms, known as "velvet shank" or commonly nicknamed "Skinny Mushrooms" is a popular ingredient in Japan for its unique and crisp texture and delicious flavoring. Kuze Fuku's Enoki Mushrooms in Savory Umami Sauce to discover the new taste of Japan! It is an excellent, all-purpose topping for rice, pizza, pasta, or any of your favorite dishes.
Kuze Fuku & Sons is a family-run business spanning three generations. After starting in Tokyo in the early 20th century, Kuze Fuku & Sons expanded to Oregon to bring high quality, premium Japanese products to North America and beyond.
More details
About the brand
Allergens
Ingredients
Soybeans, fish (bonito).
Enoki mushrooms, gluten-free soy sauce (soybeans, salt, alcohol), water, beet sugar, mirin (sticky rice, malted rice, brewed alcohol, sugar) salt, yeast extract, (dextrin), lactic acid (sodium lactate), citric acid, gluconic acid (corn syrup), dried bonito powder (bonito), agar, kombu kelp powder (salt), yeast extract, vitamin c, shiitake mushroom powder.
The story of Kuze Fuku & Songs begins with Fukumatsu Kuze, a merchant from Japan who started with a sauces and seasonings shop in Tokyo. The modern continuation of Fukumatsu's efforts was the dream of his son, Ryozo, who expanded the business to also start manufacturing its own products. Ryozo's son and daughter-in-law went on to establish the Kuze Fuku & Sons brand and brought their family's gourmet Japanese products to North America.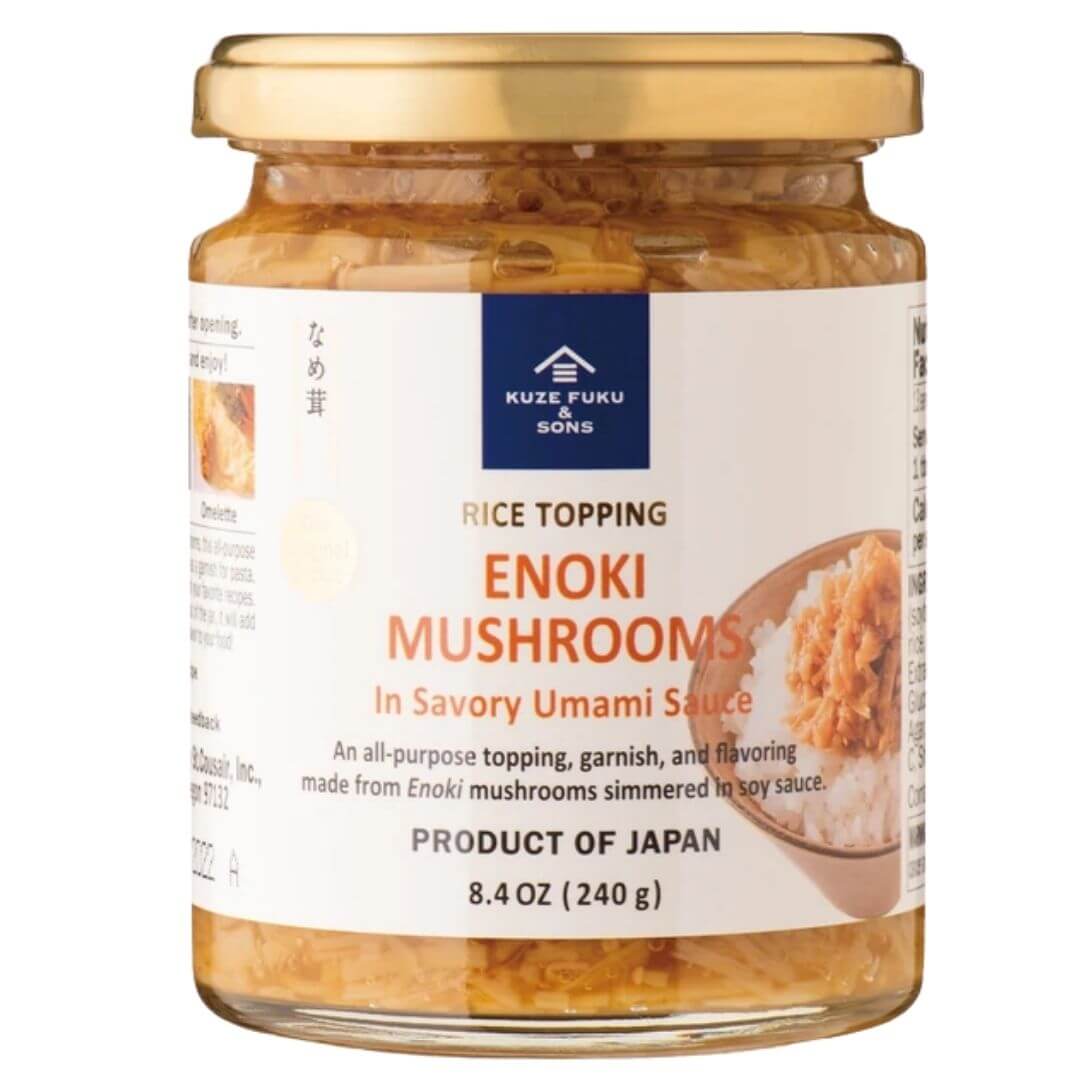 Total 5 star reviews: 2
Total 4 star reviews: 0
Total 3 star reviews: 0
Total 2 star reviews: 0
Total 1 star reviews: 0
Yummy

This was a great find. Yummy on steak.

Pair with a good base and you've got a delicious meal!

This was my first time trying this product, and because it's got a really smooth finish and salty taste, I really loved pairing with tofu or rice (and sometimes both); as well as an over-medium egg and some cucumber/kimchi on the side. That said I also found myself snacking on this on its own. Generally speaking, I'm also a huge fan of enoki mushrooms, so finding this was such a treat!! I went through half the jar in one sitting 😂
Reviews Loaded
Reviews Added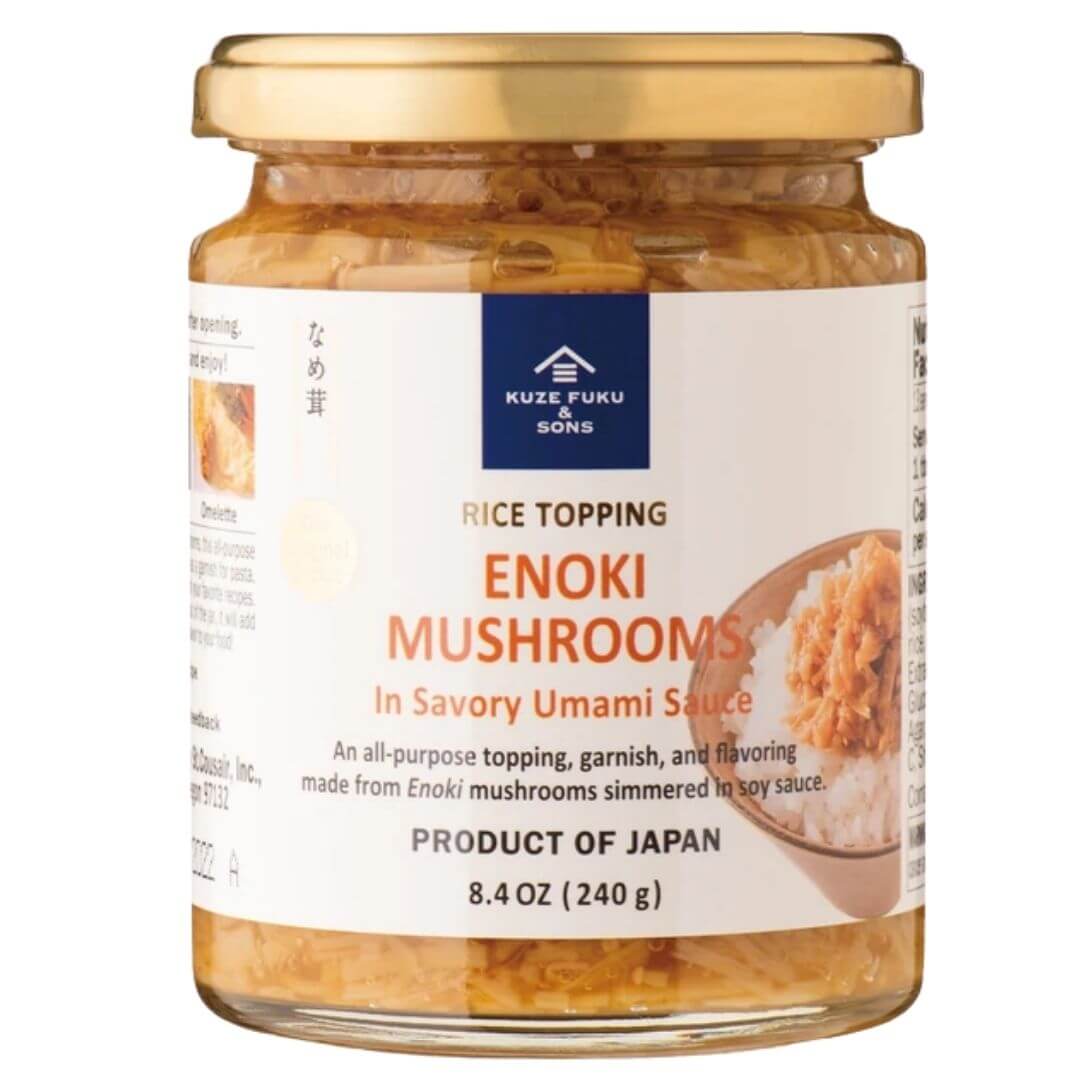 Kuze Fuku Enoki Mushrooms in Savory Umami Sauce