Kuze Fuku Matcha Anko Butter (Matcha and Azuki Bean Spread)
About this product
Made from delicious and sweet white beans, rich and creamy butter, and two different kinds of Matcha, this spread is a perfect starter of your day! Besides enjoying it on toast in the morning, serve it as a topping for ice cream or in a sundae for your relaxing tea time at home.
Kuze Fuku & Sons is a family-run business spanning three generations. After starting in Tokyo in the early 20th century, Kuze Fuku & Sons expanded to Oregon to bring high quality, premium Japanese products to North America and beyond.
Prop 65 Warning: For more information, go to www.P65warnings.ca.gov
More details
About the brand
Allergens
Ingredients
Milk.
White bean paste (green beans, sugar, reduced starch syrup, agar, salt, sorbitol, carrageenan), glucose (corn starch, potato starch, sweet potato starch), water, butter (milk), matcha paste (green tea), glycine (trehalose, sodium gluconate, i-sodium tartrate, glycerin, fatty acid esters, octenyl succinate starch, dextrin, salt. Matcha (green tea). Agar (sodium octenyl succinate starch, sucrose fatty acid esters), salt, phytic acid, agar.
The story of Kuze Fuku & Songs begins with Fukumatsu Kuze, a merchant from Japan who started with a sauces and seasonings shop in Tokyo. The modern continuation of Fukumatsu's efforts was the dream of his son, Ryozo, who expanded the business to also start manufacturing its own products. Ryozo's son and daughter-in-law went on to establish the Kuze Fuku & Sons brand and brought their family's gourmet Japanese products to North America.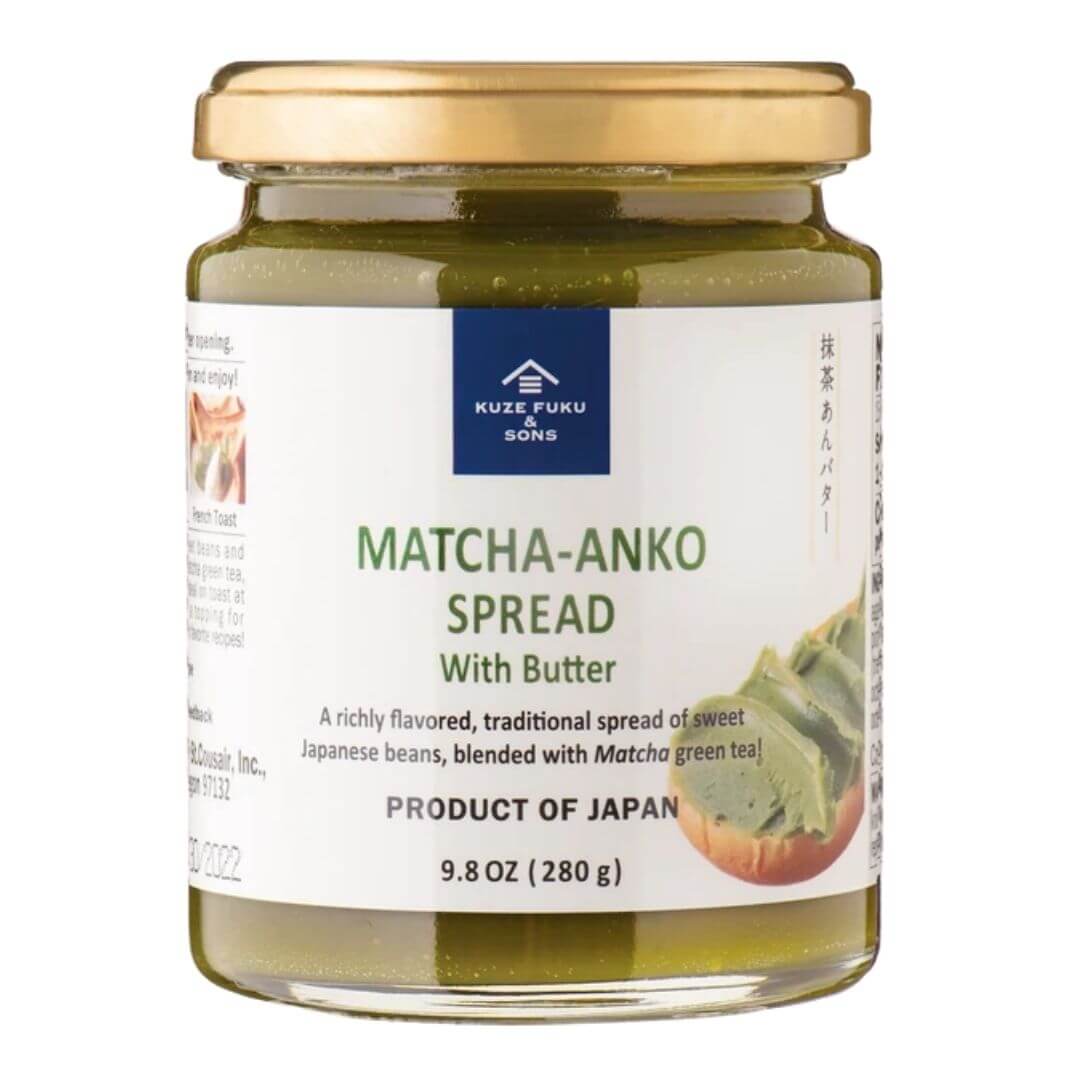 Kuze Fuku Matcha Anko Butter (Matcha and Azuki Bean Spread)